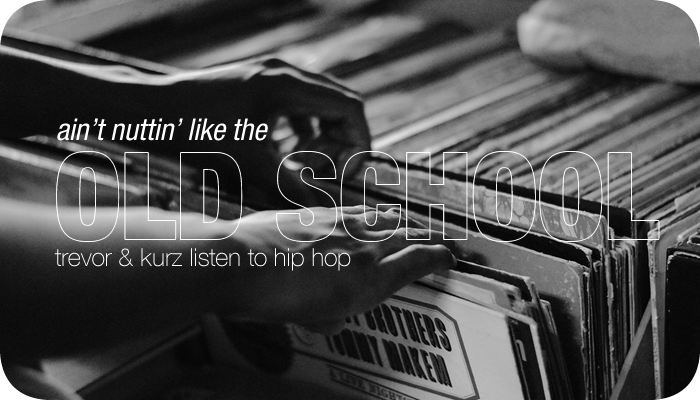 Banner by Jedi
A Word from Trevor
I found myself enjoying hip hop in secret throughout my childhood to preteen years. I credit my decade-plus long fascination in the genre to my older brother, whose adoration for the music was too present too ignore; his bedroom walls covered in posters of 2Pac, his speakers always pounding to the beats of Pac, Eminem, and countless others. I remember watching the documentary
Tupac: Resurrection
with my brother nine years ago and it sparking a fondness in the artist that has only grown exponentially over the last decade.
My parents were not particularly amused with my brother's passion in hip hop; or at least my mother was indifferent whereas my father was vocal in his contempt. I never admitted to myself in those years that I was a fan, for a few reasons. Partly because of my parents, partly because I didn't want my brother to know he was having as large an influence on me as he was (he undoubtedly sparked my interest in many things, from hip hop to various movies and television shows to comics) as I wanted to form my own identity and interests, and partly because I knew that what I was hearing was 'too adult' for my preadolescence ears.
For many years following I largely ignored hip hop, during what were my 'classic rock' teenage years. But as my music tastes began to broaden more and more, I found myself discovering and exploring genres that were previously never on my radar, and I rediscovered what I once had to listen to in private. It was the Beastie Boys and my reexamination of Eminem that got me interested again. I admired the anarchic antics of the rock-rappers, and my fondness of Marshall which went back to childhood blossomed into a great respect when I went through his albums in full, and I remembered just how personal and powerful this music could be. For some it's a spoken word confessional set to music, with the same directness and harsh truths about living conditions and social imbalance sometimes explored from the finest stand-up comedians and spoken word performers (minus the music). But of course hip hop would be one note if that was all it was; many of its finest pioneers and innovators put great effort into making the music as memorable – and sometimes as important – as the lyrics. And for others, it's all about the beats.
According to my RateYourMusic profile, I've listened to 45 hip hop albums. And yet I still don't feel that I know the music too well. I'm still not at a point where I can successfully articulate my feelings on what I listen to in this genre. Perhaps this experiment will help in that. I gave DJ Jazzy Kurz the task of compiling a list of albums for us both to listen to. I asked for a list that he thought did justice to the essential canon of the genre, that also incorporated some of his lesser known personal favourites, and some stuff that not even he has heard. This will be a chronological exploration, as we listen to and discuss 90 hip hop albums spanning 1982 to 2006.
A Word from Kurz
In the first year of high school (13-14y old) I started listening to contemporary pop music like the other kids were doing. Then, sometime during 1998, 2pac's "Changes" was released as a single and in a way you could say it changed the rest of my adolescent years, or at least until sometime when I was 17. 2pac was already dead, but from the grave he spoke to me in a way no other artist had before at that time. He spoke of a world completely alien to me, yet so compelling. Later I found out that 2pac may never have intended the song to sound like it does, but I didn't know that then. It sounded soulful and even somewhat melodic, yet was dominated by the rhythm and not just instrumentally. His voice, rapping and rhyming were very much a part of the rhythmic seduction.
And this was not the lovey dovey stuff or the simple dance stuff that I heard in most music at the time. In 3 verses 2pac paints a complex picture of urban malaise, black male identity, harsh ghetto life, suicidal thoughts, racism, institutionalized violence, police brutality, both the destruction and economical power of the drug business and much more. In a way, it's almost a state of the union address.
In other words, this was relevant, topical, powerful and engaged me in a way I wasn't aware pop music could do. Soon I started to drift more and more towards hip hop music until it was all I listened to. And not just the more conscious, more political/socially engaged stuff that first drew me in. To this insecure white youth, gangster rap had a great appeal too. Around 2002-2003, however, I started expanding my taste in music and rapidly started to turn my back to rap – by selling my by then sizable collection of hip hop CD's at flea markets.
After entering university, this attitude dissipated and I slowly started to listen to hip hop again. When Trevor recently said he wanted to explore the genre in full I thought it would be fun and interesting to accompany him on this journey, revisiting old favorites from my youth, discussing the essentials and discovering some 'new' stuff along the way. So I made a list of 90 albums for us to go through and discuss, taking us from 1982 to 2006. Which albums? You'll just have to follow and see.
-----
Album #1
Grandmaster Flash and the Furious Five - The Message (1982)