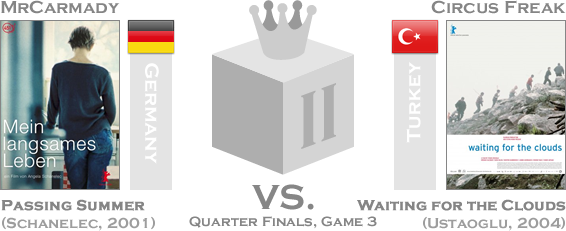 Angela Schanelec's
Passing Summer
dwells on the detached lives of several people living in Berlin and the varying emotional crises they experience over the course of one warm, moody German summer. Valerie (Ursina Lardi) is a writer in her early thirties who has just moved to the city, and whose close friend Sophie (Nina Weniger) is about to leave for a work placement in Rome. Once her friend has left, Valerie tentatively embarks on an affair with Thomas (Andreas Patton), a local man who has recently divorced his wife and been left to care for their four-year-old son. While still finding her feet in this new relationship, Valerie's life is suddenly turned upside down when her father is rushed to hospital.
Based on the novel
Tamama
by Greek author Georgios Andreadis, Yeşim Ustaoğlu's third feature
Waiting for the Clouds
tells the story of an elderly woman named Ayşe (Rüçhan Çalışkur), who lives in Trebolu, a small village on the north coast of Turkey, with her ailing older sister Selma (Suna Selen). When the Turkish war of independence ended in the twenties, Greek people were forcefully deported from the country, but many - such as Ayşe and Selma - took the huge risk of remaining in Turkey under fabricated identities. Fifty years later, with the death of her sister and recent political upheaval once again threatening to uncover her true ethnic past, Ayşe travels back to Greece in search of her long lost brother.

Upon watching German actress-turned-director Angela Schanelec's recent
Afternoon
and, now, her earlier
Passing Summer
, it strikes one how oddly accessible her most impressive film,
Marseille
, really is. Schanelec uses the same quietly understated, observational stance in
Marseille
as she does in both
Afternoon
and
Passing Summer
, the difference being that there is really only one subject in the former: Sophie, played by Maren Eggert, who is young German woman vacationing alone in the titular, southern France location. Schanelec's patient camera follows every step of Sophie's lazy wandering around the city, and is there to document - through long, unwaveringly static takes - an awkward meeting at a bar, or her emotional outpouring when being questioned by police after being attacked. The latter two films, by contrast, document the lives of a host of different subjects, all of which are given the same respect and opportunity to develop as characters. As such, we notice gaping holes in each character's advancing narrative - Valerie's affair is given very little exposure, for example - which makes our understanding all the more fragmented and gradual.
Passing Summer
, which could and has been likened to the work of Yasujirō Ozu for its gentle, unassuming capturing of human moments in detail, or even that of Hong Sang-soo for its splintered narrative structure, does however pose a few important questions that are perhaps beyond
Marseille
. Questions such as:
"What kind of person am I?"
,
"Where is my life headed?"
, or
"Who can I truly confide in?"
Questions that its characters reluctantly contemplate as the sun slowly sets on another sultry summer.
Nostalgia, which is a word that originates - rather ironically, in this case - from the Greek word 'Nostos' meaning to return home, is certainly a recurrent theme in contemporary Turkish cinema. From Semih Kaplanoğlu's aforementioned
Egg
to such slightly more mainstream titles as Serdar Akar's
Offside
, the approach is very similar. It is an approach founded on a strong remembrance of and connection with the past, and one that brings together such elements as identity, childhood, belonging, suffering and loss. Just as with Nejat İşler's character in
Egg
, here the protagonist returns to a place from her past, and it is a place that - given her recent loss and generally repressed existence under an intolerant Turkish government - evokes a happier, more innocent time. Many have spoken of an identity crisis in modern-day Turkish society, and films such as
Waiting for the Clouds
will therefore - given the director's deft handling of Nostalgia and all that this word constitutes - appeal to the public's collective consciousness. Yet another Turkey/Greece connection that can be drawn from
Waiting for the Clouds
is its noticeable kinship with the work of Theo Angelopoulos - indeed, Turkish co-scripter Petros Markaris has been working closely with the Greek director since the early seventies. The more glaring of these similarities are, once again, to do with the recurring themes of identity and loss, the brittle clashing of cultures and search for a lost loved one - something that Angelopoulos has explored on many an occasion. The difference being that Ustaoglu places less emphasis on the journey itself, and more on the effect it has upon her aged protagonist.